Good Morning Manhattan June 2023
Good Morning Manhattan June 2023
Good Morning Manhattan June 2023
Thursday, June 15, 2023 (7:15 AM - 8:30 AM) (CDT)
Description
This signature breakfast event is held the third Thursday of each month. Join us for speaker content that is both informational and educational. One of the best chances to network with your fellow business neighbors.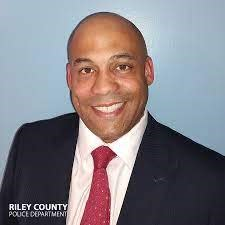 Get to know Brian Peete, the new Director of the Riley County Police Department!
Director Peete will be the featured speaker this month. Peete will serve as the 6th Director of RCPD, since its establishment in 1974. Prior to coming to Manhattan, Peete served as the Chief of Police in Montpelier, Vermont where he led a dedicated department of 27 full-time members of officers, administration, parking enforcement, and a regional emergency communications dispatch personnel for a daytime population of over twenty thousand.
Thursday, June 15, 2023 (7:15 AM - 8:30 AM) (CDT)
Registration and coffee open at 7:15 a.m. Buffet to open at 7:25 a.m. with program beginning at 7:45 a.m.