Good Morning Manhattan April 2023
Good Morning Manhattan April 2023
Good Morning Manhattan April 2023
Thursday, April 20, 2023 (7:15 AM - 8:30 AM) (CDT)
Description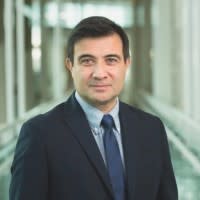 With the official dedication and ribbon-cutting of the National Bio and Agro-Defense Facility expected later this spring, make plans now to attend Good Morning Manhattan, Thursday, April 20, featuring NBAF Director Alfonso Clavijo.
Located in Manhattan, Kansas, NBAF is operated by the United States Department of Agriculture with a mission to protect the U.S. from transboundary, emerging and zoonotic diseases. NBAF has biosafety level-2 and -3 laboratories and is the first facility in the United States with biosafety level-4, or BSL-4, containment capable of housing large livestock.
Join us as Dr. Clavijo shares the most recent updates and initiatives during NBAF's stand up, which is expected to take a couple of years. Once fully operational, NBAF will have more than 400 employees working toward its mission of protecting the nation's livestock and agricultural interests.
Good Morning Manhattan is held at Four Point by Sheraton, 530 Richards Drive, Manhattan. Doors open at 7:15 a.m., the breakfast buffet starts at 7:30 a.m., the program will begin at 7:45 a.m. and we'll adjourn by 8:30 a.m.
Sponsors
Good Morning Manhattan Presenting Sponsor
The Trust Company
Thursday, April 20, 2023 (7:15 AM - 8:30 AM) (CDT)
Registration and coffee open at 7:15 a.m. Buffet to open at 7:25 a.m. with program beginning at 7:45 a.m.